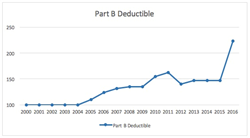 August 01st, 2015 | By: Omaha, NE (PREWEB)
The 2015 Medicare Trustees report was released last week with the news that the long-term outlook of Medicare has improved overall. It has already been reported by several sources that Part B premiums are projected to increase by 52%, but what hasn't yet been reported is that the same section of the report also projects that the Part B deductible will also increase by 52%. This could mean a double-whammy for many seniors who will end up paying higher premium for their Part B coverage, and also end up paying more out-of-pocket costs in order to meet their deductible. Read article here.
There is also a movement to block the Medicare premium increases and you'll find that here.